Dear Residents,
Our community pool will be opening on Saturday, May 23 at 11am. On top of the regular rules set forth by the county, we will be layering on additional guidelines to follow. 
We are also asking all residents to print and sign our Pool Entry Waiver. The waiver is then to be put in the waiver collection box located on the fence next to the sanitation station. 
The waiver can be downloaded and printed from here: https://hsho.org/wp-content/uploads/2020/05/Amenities-Waiver-and-Relase-5.19.20.pdf
Below are the additional guidelines we are asking residents to follow. 
(REMINDER: We have 2 hi-def cameras monitoring the pool)
Obey the lifeguard

Obey the usual county rules that are posted poolside

SIGN THE WAIVER AND PUT IT IN THE BOX

Please read the signboard for additional COVID-19 related information

Stay home if you have COVID-19 symptoms or were exposed to someone with COVID-19

Minimize the touching of handles and ladders

Practice social distancing in and out of the pool (Please see the seating chart located on the information board at the pool)

Only one household per concrete section

NO friends or guests are allowed at this time

Time limits may be enforced to assure everyone has a chance to use the pool

NO sharing of pool toys

NO sharing of food and drink with people outside of your household

BYOPF...Bring Your Own Pool Furniture 

Please exercise the use of masks when out of the pool, not in the pool

NO parties
Please adhere to our seating chart. This allows for 13 families to be present at a time.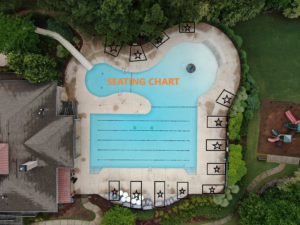 We ask everyone to be respectful of each other. Failure to comply with the additional guidelines or a lifeguard's orders may result in the loss of pool access. 
Thanks,
The Hampton Station Board